Unbreakable, watertight, airtight, dustproof, chemical resistant and corrosion proof. These are some of the features of this Peli case that offers total protection for your equipment. With only a few scratches to show on the outside, contents are left unscathed. Minor war wounds for major bragging rights. And that is really what it's all about. Getting your gear from point A to point B in the condition it's meant to be in: intact and functional.
It is made of Ultra High Impact structural copolymer that makes it extremely strong and durable. Its exclusive 6.4 mm neoprene o-ring and ABS latches guarantee a perfect seal and includes a purge valve for quick equalization after changes in atmospheric pressure. Your equipment can fit into the high density foam or padded dividers for total subjection and protection against impact, vibration or shock.
Case is NATO codified and tested to MIL C-4150J (Military Standard), IP-67 (Ingress Protection) and ATA (Air Transportation Association). Unconditionally Guaranteed... forever.
PELI 1090 HardBack™ Case
Exterior dimensions: 40.2 x 33.3 x 7.3 cm
Interior dimensions: 38.1 x 28.7 x 4.9 cm
Weight w/Foam: 1.51 kg
Buoyancy Max.: 5.22 kg
Range Temperature: -23 / 93° C
Resistant to knocks, water and dust
Moulded plush foam liner - protects notebook from impacts and scratches
Easy snap anodized aluminum latch
O-ring seal
Vent with Gore-Tex™ membrane for auto pressure balance
Colour - charcoal grey with silver latches
Unconditionally Guaranteed
Will hold up to 24 x 31 cm and A4 documents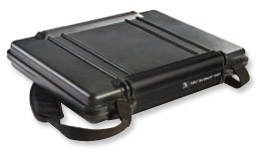 PELI 1600 Case
Exterior dimensions: 61.6 x 49.3 x 22 cm
Interior dimensions: 54.4 x 41.9 x 20 cm
Weight w/Foam: 6.4 kg
Buoyancy Max.: 53 kg
Range Temperature: -40 / 99° C
Watertight, crushproof, and dust proof
Open cell core with solid wall design - strong, light weight
Automatic Pressure Equalization Valve
O-ring seal
Comfortable, rubber over-moulded handle
Stainless steel hardware and padlock protectors
2 layer Pick 'N' Pluck™ foam with convoluted lid foam
Unconditionally Guaranteed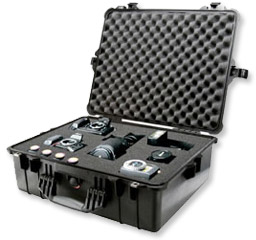 PELI 1620EU Case
Exterior dimensions: 63 x 49.2 x 35.2 cm
Interior dimensions: 54.3 x 41.4 x 31.9 cm
Weight w/Foam: 11.8 k
Buoyancy Max.: 68 kg
Range Temperature: -40 / 99° C
Watertight, crushproof, and dust proof
Easy-open, double-step latches
Open cell core with solid wall design - strong, light weight
O-ring seal
Automatic Pressure Equalization Valve
Fold down handles
Stainless steel hardware and padlock protectors
4 layer Pick 'N' Pluck™ foam with convoluted lid foam
Unconditionally Guaranteed
Retractable extension handle
Strong polyurethane wheels with stainless steel bearings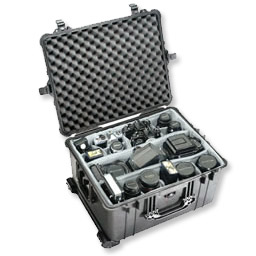 Other models and versions available on request [+352 31 16 64]
Shipping not included, pick-up possible. Luxembourg shipping costs: 7,00 €